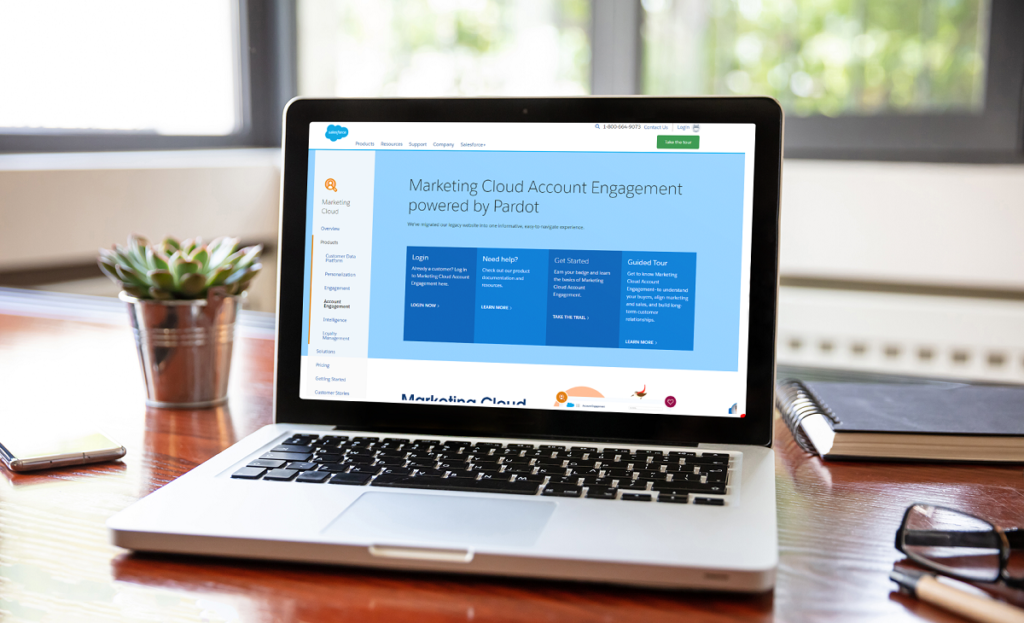 If your organization uses marketing automation, you're probably very familiar with a tool like Pardot.
Pardot is the powerful marketing automation software built into Salesforce that helps businesses increase leads and streamline a wide variety of marketing tasks.
It automates email and lead nurturing processes based on a wide range of triggers, including time, interactions, and other custom parameters.
It lets you personalize messages, landing pages and customer journeys, developing new email paths and delivering relevant insights into your prospects' activity.
And it alerts you to prospects who might be ready to buy.
Pardot is an incredible marketing tool for Salesforce users, but it still has its limitations.
The limitations of Pardot
Despite all its features, Pardot faces one major challenge in the marketing and sales process.
It has to deal with lots of unidentified visitors.
When a user engages with a landing page or webinar, and they land on your site, Pardot can track them effectively. But it can't identify them unless they're already a recognised contact or lead.
If they haven't filled in a form or shared their email address, Pardot is unable to identify who they are.
Data Dwell can
When you integrate Data Dwell with Pardot, you can use all of its marketing automation features to maximum effect.
You can:
1. Identify unidentified visitors
Data Dwell shares content visit data directly with Pardot, so you can immediately identify anyone who's engaging with your marketing and unknown to your organization.
If that visitor has Pardot activity but is unidentified in Pardot, Data Dwell sends the lead or contact information over so the unknown visitor becomes known in Pardot.
By syncing with Pardot's automation tools, Data Dwell lets you share content designed to identify new leads and completely unknown visitors. If the lead is known to Pardot, Data Dwell updates automatically.
From questionnaires and case studies to white papers and product specifications, if any of your leads click a link in any piece of content you share, Data Dwell can track interactions and work with Salesforce and Pardot databases to identify that lead.
It helps you uncover all those hidden stakeholders in the buying journey.
2. Track who else engages with your marketing
B2B buying journeys are notoriously long – with multiple sign-offs and stakeholder input required at multiple stages. Data Dwell syncs with Pardot to give you greater insight into this process.
It tracks all the content you share with a lead, recording when they forward it to anyone within their organization. You can then see how that 'hidden' stakeholder engages with your content, identifying who's viewing it, who's not opened it, and who passed it on again.
Using Pardot to leverage this information, you can enhance your marketing to multiple stakeholders in that business and effectively target more individuals involved in the buying decision.
3. Use historical data to re-engage existing leads
Once Data Dwell is integrated with Pardot, it's not just beneficial in moving forwards with new leads.
You can use it to view historical data and old contacts, reviewing your marketing efforts and identifying any missed opportunities. When you can spot existing visitors who've interacted on several occasions and prioritise existing leads who've clearly been interested in your offer, you can focus your efforts more effectively.
Instead of spending marketing resources on attracting entirely new visitors, you can spend time and effort on remarketing campaigns to those who are more likely to buy.
4. Make your marketing budgets go further
When you can identify the vast majority of your visitors right away, you can take full advantage of Pardot's smart tools to personalize and automate subsequent campaigns to those leads.
Using what you know about prospects, your marketing benefits from more focus, more customization and more engagement. Instead of large, generic campaigns, you can narrow your efforts and stretch your budget further.
All while driving more revenue.
5. Increase your conversions
Ultimately, that's the biggest benefit of connecting Pardot with Data Dwell. Deeper insight and increased visibility driving more conversions.
If you can understand exactly who's interacting with your marketing, who's sharing your content, and who's ready to buy, your sales team can jump on opportunities and convert those leads.
Seamless integration because Data Dwell is 100% Salesforce Native
And it's easy to get the most out of Pardot with Data Dwell, because integration is simple and seamless.
Data Dwell is the only sales enablement software built directly in Salesforce, for Salesforce. It's 100% native to the Salesforce environment.
It means integration takes minutes not months, and makes sure you get to take full advantage of the full package – Salesforce contacts and databases, Pardot's automated marketing tools, and Data Dwell's smart sales enablement software.
See for yourself how Data Dwell can help you get more from Pardot.